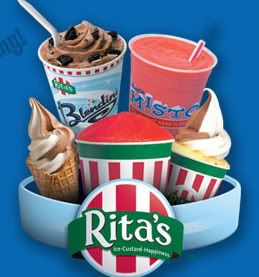 Rita's has a contest where you can name the mystery flavor and win free ice for a year (among other things)! Drop by Rita's and have a free taste of the new flavor, then go online and
submit
your own creative name. Check out the competition and vote on your favorite. (You may not vote on your own submission, by the way.) The contest ends April 17th.
Also, sign up for
Rita's birthday club
. Join today and receive exclusive offers year round, a special birthday treat and the latest scoop on Rita's-- all delivered straight to your inbox.