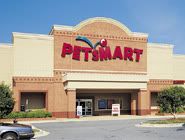 You're invited to the
Petsmart Birthday Party
sponsored by Purina today (4/21) from 6 -8 p.m! You are, of course, encouraged to bring your pet.
There will be goody bags, a free digital photo with frame, and some sort of "Musical Sits" party game to win prizes (I'm not kidding.).
On the
Petsmart
website, you will find all kinds of celebration sales, articles and information.
It actually sounds like a pretty interesting time. If my dog was still alive, I'd probably take him. I also took him to have his picture taken with Santa a few years ago (at a Petsmart, too, I think), so I'm kind of strange like that.