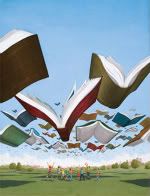 This
is a service by our own Fayette County Library. Even so, I think this is available to anyone... anywhere.
Each week, you receive a portion of the book in your email. By the end of the week, that will amount to between 2-3 chapters.
I absolutely love this service! I rarely get to the library or bookstore alone, so when we do go, I need to know exactly what books I want. There is no time for browsing when you have small children. That's why this service is so useful for me. I can read the emails and decide if I think this book is going to keep my interest. So, when I head out the door, I have a quick and easy mission plan.
To join, you just enter your email address, choose as many of the twelve categories listed of books as you like, and click the "join now" button. It's that easy!